Even though spending the festive season at home is always a beautiful experience. There's something special about travelling to a beautiful destination and staying in a luxury resort where you can acquire new experiences and explore amazing attractions while feeling like you're at home. But you don't need to go far from home for this unique experience. East Africa features wonderful holidays during the festive season – truly a memorable experience. The region is dotted with luxury resorts that will make you feel right at home. You can stay right in the city or disconnect from the world on a secluded island, where the unspoiled beauty of the landscape will rejuvenate and revitalize you.
Whether you're looking for an island adventure or a city break during the festive season, there's an outstanding resort for you in East African cities and destinations. The resorts offer exquisite dining, full concierge services, spa facilities and unique touches that will make your stay welcoming and more personal.
Thus, if you're looking for a way to steer clear of the demands of cooking back home during the festive period or hosting the whole family in your home – there's a way out! Here's a list of the gorgeous luxury resorts to visit in East Africa this festive period and thank me later. 🙂
Baraza Resort & Spa | Zanzibar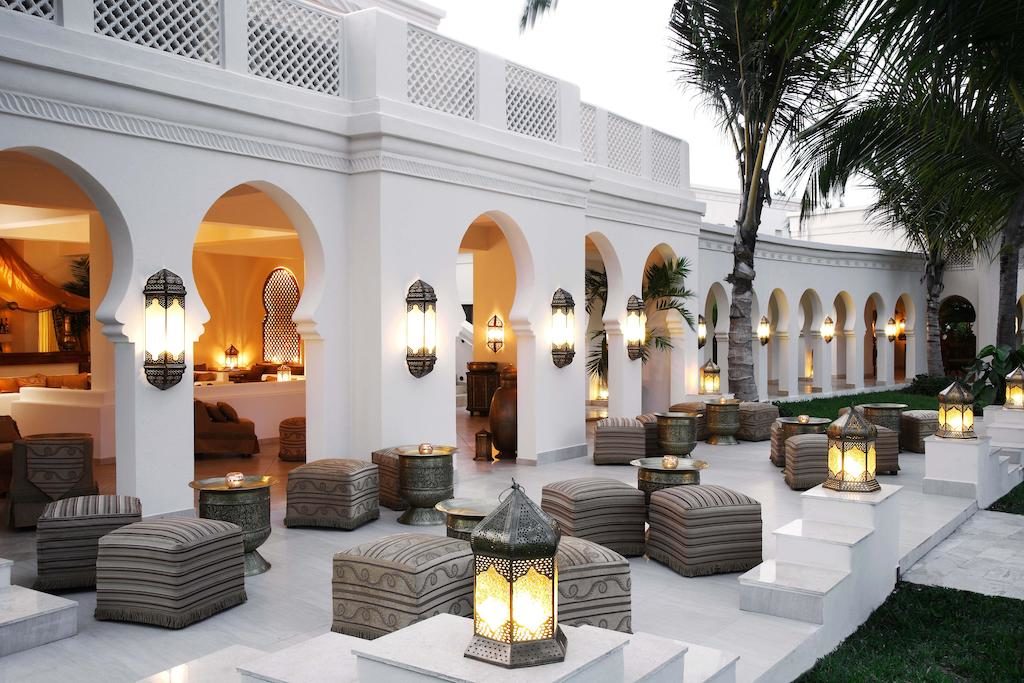 Baraza Resort and Spa is an exclusive beach resort that provides visitors with a one-of-a-kind island experience during the festive season. Located along the Paje beach and surrounded by natural beauty, the resort flourishes on the rhythm of the day and conjures the culture and tradition of Zanzibar dating back to the period of the Sultans. Baraza features a fusion of Swahili, Indian and Arabic design with handmade furniture, intricate hand carved cement décor, intricate brass lanterns, beautiful antiques and Swahili arches. The resort is an oasis of sophistication and style, where you can indulge in all-suite accommodation, exclusive pool, exquisite Swahili and international dining options, and a wide range of fun activities. Don't miss a spa day at Frangipani spa – a feast for the senses and a haven for the body, mind and soul with a variety of treatments, pampering services and rejuvenating therapies. Just lie back, close your eyes, relax and enjoy!
Address: Dongwe, Tanzania | Website: www.baraza-zanzibar.com
Medina Palms | Watamu – Kenya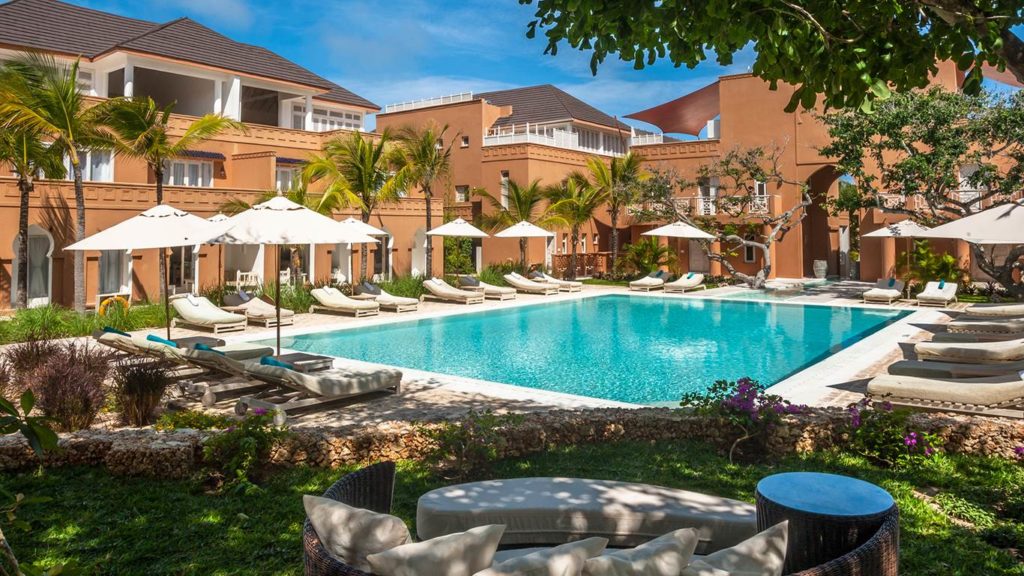 Medina Palms is a luxury resort situated on one of the famed beaches in Kenya. The beachfront property is located in Watamu, and it's truly a relaxing retreat with privacy and comfort of home as well as the luxury amenities of a five-star hotel. With stylishly-designed suites and villas, tropical gardens, tranquil pools and breath-taking ocean views, Medina Palms offer a one-of-a-kind vacation experience. Bask in the glittering sun, indulge in some water activities in the crystal-clear waters, play games on the sand, lounge by one of the dazzling pools and dine on Swahili cuisine or international delicacies at one of the restaurants, bars, and lounges at Medina palms. The location of the resort also put you steps away from the best attractions you will find on the Kenya coast including Watamu Marine Reserve. Holidays at Medina Palms during the festive season are always magical and memorable.
Address: Turtle Bay Road, Watamu, Kenya | Website: www.medinapalms.com
Royal Zanzibar Beach Resort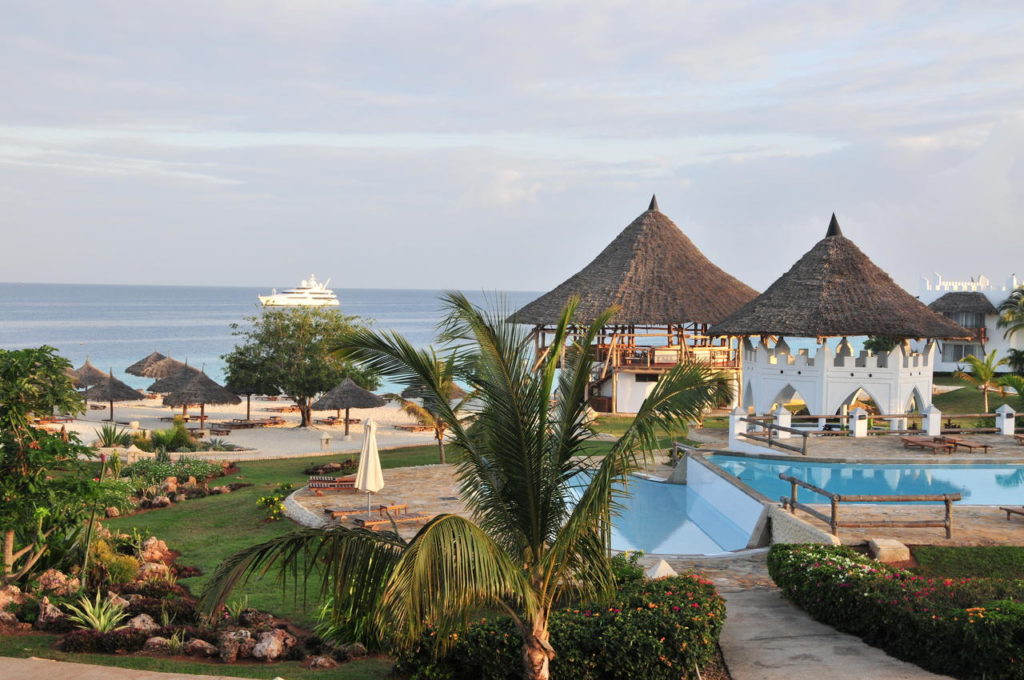 Royal Zanzibar Beach Resort captures the unique ambience and the stunning beauty of Zanzibar. It's one of the romantic hotels on the island and a perfect place to spend the festive holiday with your spouse. The stylish resort is beautifully situated on the edge of the Indian Ocean, offering magnificent accommodation and a range of luxurious amenities. You'll find comfort and delight at every turn including tropical gardens, the infinity edge pool, the picturesque beach, and the Indian Ocean beyond. You can indulge in a wide variety of water activities here, or take some time to explore the Stone Town, soak in the Zanzibari culture and do some shopping. For a relaxing holiday in Zanzibar, Royal Zanzibar Beach Resort is a perfect choice!
Address: North Coast, Nungwi Beach, Zanzibar | Website: www.royalanzibar.net
Lake Kivu Serena Hotel | Rwanda
Ever been to Rwanda? You should add the beautiful East African country to your bucket list. Lake Kivu Serena Hotels is nestled on the white sandy shores of one of the largest lakes in Africa. The stunning hotel offers everything you need for a memorable festive holiday in East Africa. You can explore the region, spend a day on the beach or relax by the sparkling resort pool. Relax and unwind in your spacious and luxurious room, fully-equipped with modern amenities and stylish décor. Enjoy exquisite dining, a wide range of fun activities including boating, fishing, and hiking – whatever experience you want – you will find them all at Lake Kivu Serena Hotels in Rwanda.
Address: Ave de la Cooperation, Gisenyi, Rwanda| www.serenahotels.com
The Sands At Chale Island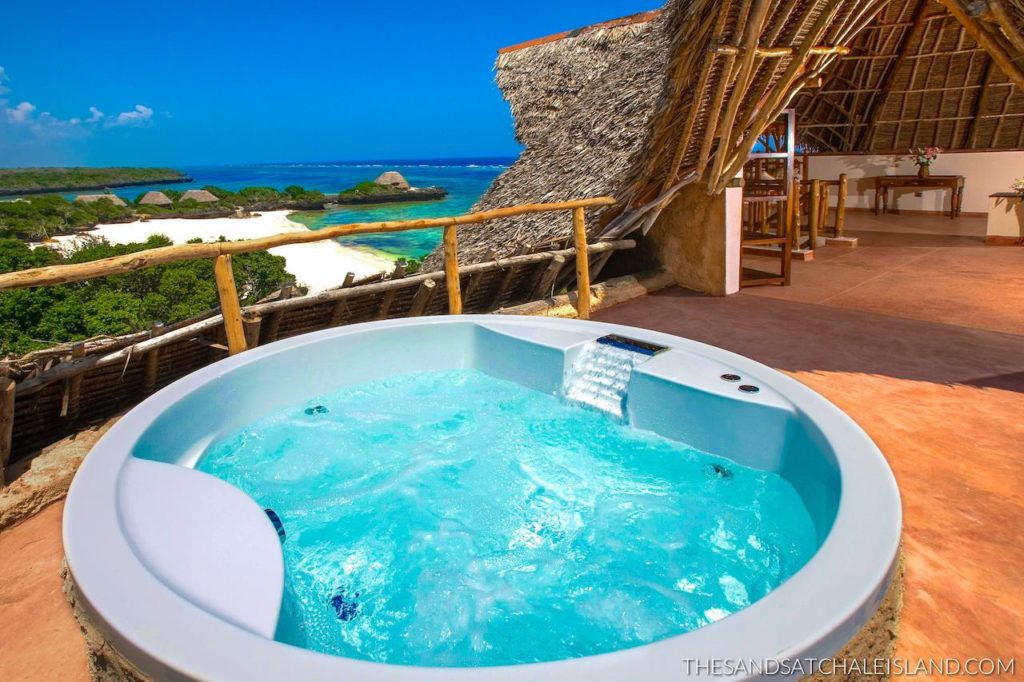 Spending your festive holiday on a magical island with natural beauty and luxurious accommodation is a lifetime experience. Enjoy the seclusion of The Sands at Chale Island which features breath-taking beaches for fun water sports, exquisite dining, colourful flora and fauna, and inland tidal mangrove lake. The exotic island resort provides endless opportunities for a relaxing holiday. Spend the day on the beach, snorkel, swim or just bask in the sun. You'll have the opportunity to experience the gracious Kenyan hospitality when you dine at the resort's restaurants. You can stay in a Banda with palm thatch roof featuring stunning sea views and the sunsets over the Shimba Hills. You'll wonder how magnificent this place is and how it exists – before you know it, you will be planning your next holiday and how soon you can return.
Address: Diani Beach Road, Diani Beach, Kenya | Website: www.thesandsatchaleisland.com | Photo source: Booking.com
Munyonyo Commonwealth Resort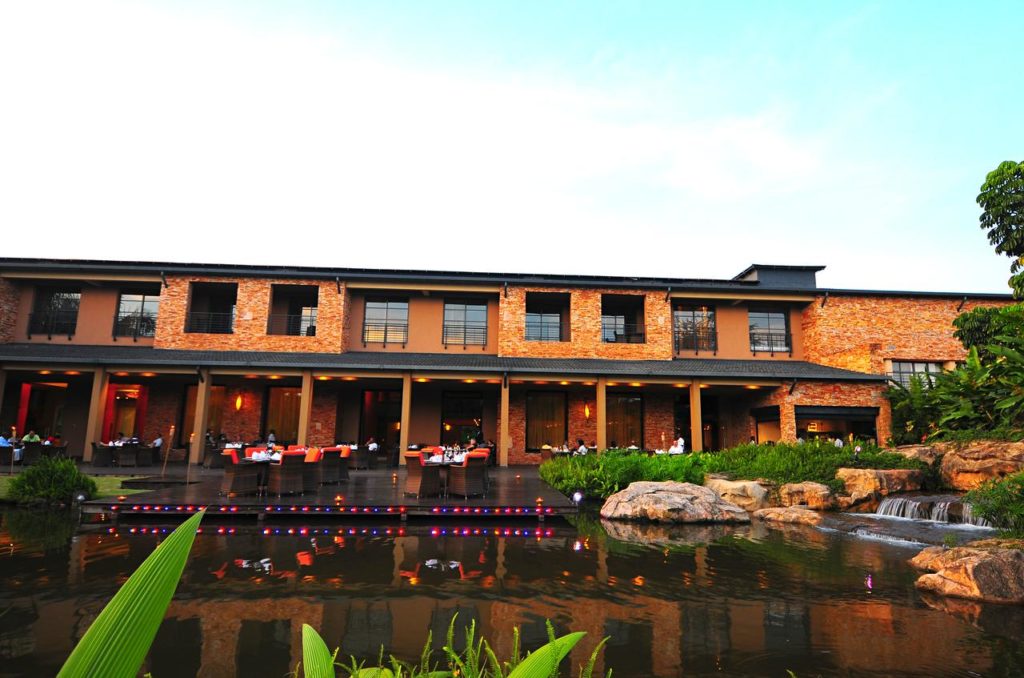 Located just 30 minutes outside Kampala, the capital city of Uganda, Munyonyo Commonwealth Resort is a luxury accommodation with stunning scenery, world-class cuisine and a sense of relaxation that you have always wanted – and even more. Once you get here, you will feel right at home. The resort has a wide range of wonderful features that will make you do nothing but just relax and soak up the surroundings. The luxury retreat is family-friendly and there are several fun activities for everyone including children. It has modern facilities including a fitness centre, spa and swimming pool; your festive holiday will be relaxing and refreshing. You can spend your day on Lake Victoria, at the Sundowner, a boat ride experience, or indulge in boat fishing.
Address: Wavamunno Rd, Kampala, Uganda | Website: www.munyonyocommonwealth.com
Kampala Serena Hotel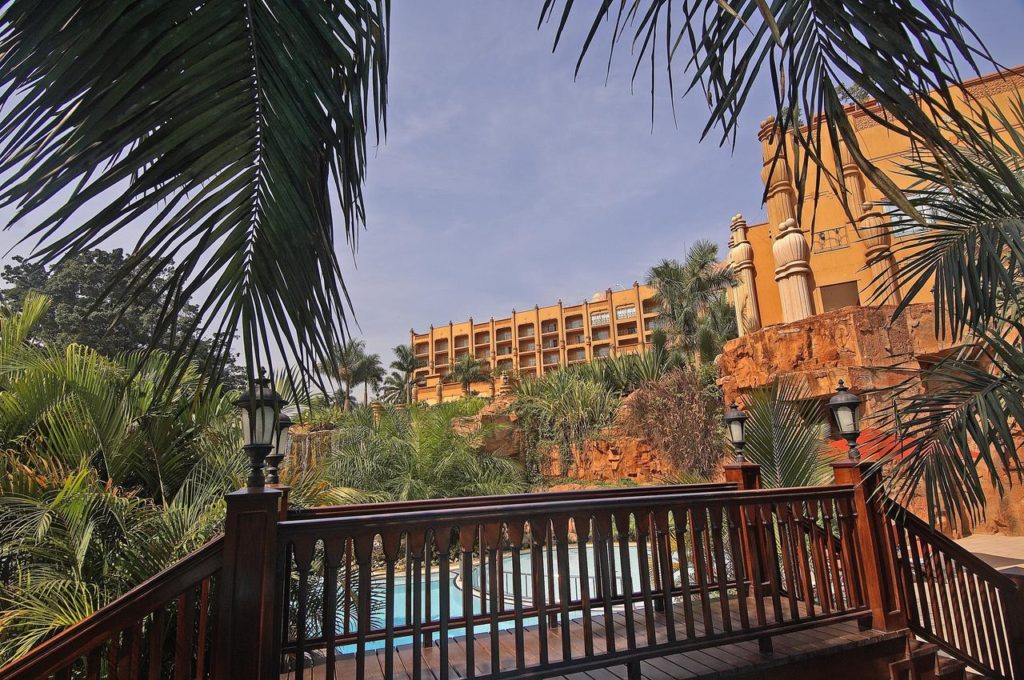 Serena hotels in East Africa are experiences you can't forget in a hurry. That's why the Kampala Serena Hotel is a place to be for a relaxing festive holiday. The hotel is one of the most luxurious hotels in East Africa with stylish accommodation, exceptional amenities, and exceptional dining. The hotel combined refined, pan-African panache with distinctly modern conveniences. Featuring water gardens, rock-sculptured pool terrace, award-winning restaurants and bars, roof-top terrace, and a refreshing spa – Moorish palace, Kampala Serena Hotel provides a magnificent retreat for a memorable holiday in Uganda.
Address: Kintu Road, Kampala, Uganda | Website: www.serenahotels.com
Kunduchi Beach Hotel and Resort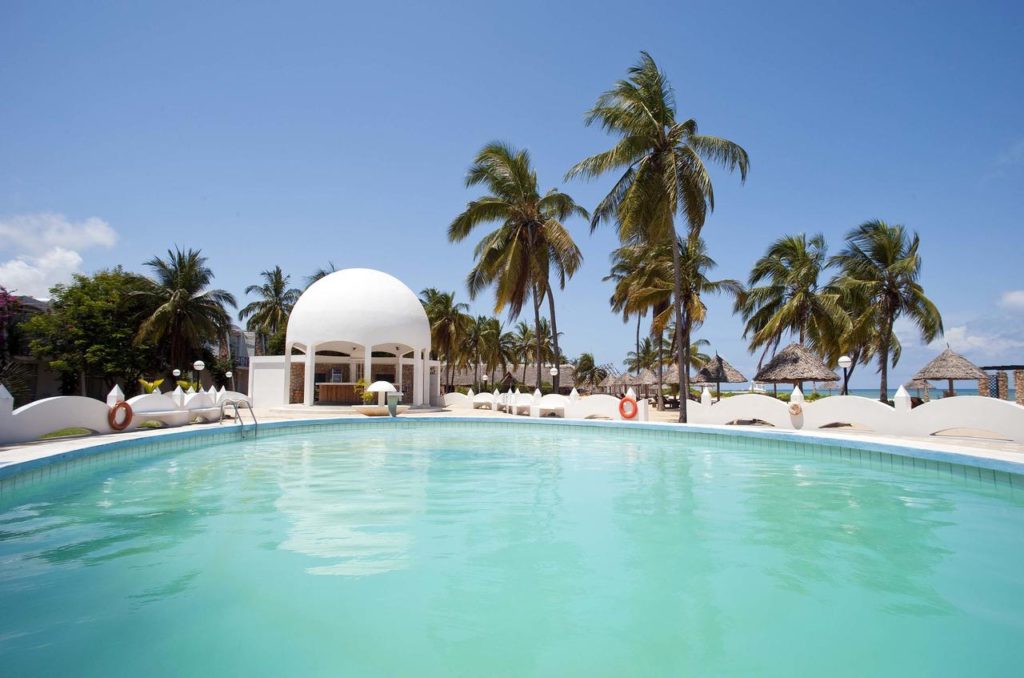 Kunduchi Beach Hotel and Resort is beautifully situated on the spectacular white sand beach of Kunduchi in Dar. It's a place where opulence and ecstasy blend, with the rustling of palm trees in the warm ocean breeze. The resort features a mesmerizing ambiance which flows through its surrounding and awakens you to the pleasures of a beautiful new day. The airy tropical feel of the hotel extends to its rooms and suites, where you can relax with a favourite TV show or movie delivered by satellite. You can also relax and unwind on the balcony while enjoying the stunning Indian Ocean views. Kunduchi Beach Hotel features all the amenities and privacy you need for a relaxing festive holiday with a tropical oceanfront setting you desire.
Address: Mtongani, Kunduchi, Dar es Salaam, Tanzania | Kunduchi Beach Hotel & Resort