You cannot make a better choice for a romantic honeymoon than Seychelles. With its unspoiled beaches fringed by radiant warm waters, lush green areas, breath-taking mountains and isolated bays for a romantic picnic, Seychelles is truly a tropical paradise for an unforgettable honeymoon.
I know how hectic it is to plan a wedding, but the honeymoon is the best time to recover, with those post-nuptial breezy nights, just you and your new spouse. Oh! it's so romantic. No honeymoon destination can certainly equal the kind of reputation a top honeymoon destination like Seychelles has. Being newlyweds, you need somewhere special with spectacular settings, and the best place to consider is Seychelles.
Why Seychelles?
Seychelles is second to none. Seychelles Islands, officially known as the Republic of Seychelles, is an archipelagic nation with 115 islands lying in the Indian Ocean. Mahé is the main island of Seychelles, it is the economic and cultural hub of the country.
Still wondering why? Here are reasons why Seychelles should be your honeymoon destination:
Unspoiled Beaches
Seychelles is renowned for its picturesque beaches. Imagine lounging on a white sandy beach with your new spouse, overlooking striking boulders and sparkling turquoise water, naturally picketed with palms and coconut trees. Romantic, isn't it? Seychelles is filled with significant and stunning beaches such as Anse Source d'Argent on La Digue, which have been voted as the best beach in the world several times. Anse Lazio, which is located on the northwest corner of Praslin, Anse a la Mouche on the south western coast of Mahé and of course, the most famous beach in Mahé, Beau Vallon Beach. There are spectacular paradise islands in Seychelles and they are located remotely with isolated beaches, where you and your new spouse can have the beach to yourselves.
Enchanting attractions
You will find some of the world's most enchanting attractions in Seychelles. The islands of Seychelles feature an exotic range of tourist attractions, from scenic natural attraction covering forested areas enriched with rare species of flora and fauna, bio-reserves, extensive plantations of coconut trees, cinnamon and vanilla to art galleries and museums, religious sites and natural monuments. Almost half of the land area of Seychelles is safeguarded under natural conservation, offering tourists an opportunity to see the flourishing widespread ecosphere. Explore the beauty of the island with your new spouse, see a wide variety of wildlife – birds, tortoise and sea turtles. Visit Moyenne Island National Park, take a glass bottom boat through the Ste Anne Marine National Park, explore the Cousine Island, and discover spectacular wildlife in their natural habitat.
All-inclusive Accommodation options
With its breathtaking surroundings, comprising pristine beaches, secluded bays and coves, and lush green areas, Seychelles delights with its exceptional accommodation options. The exotic destination offers luxury resorts and hotels for every preference and budget. From luxurious five-star beach resorts, exotic self-catering properties to charming small and affordable hotels, your honeymoon in Seychelles would be an unforgettable one. Enjoy a luxury honeymoon in the paradise islands of Seychelles, stay at an all-inclusive beach resort, set between pristine beaches and lush landscapes.
 Exciting Outdoor Activities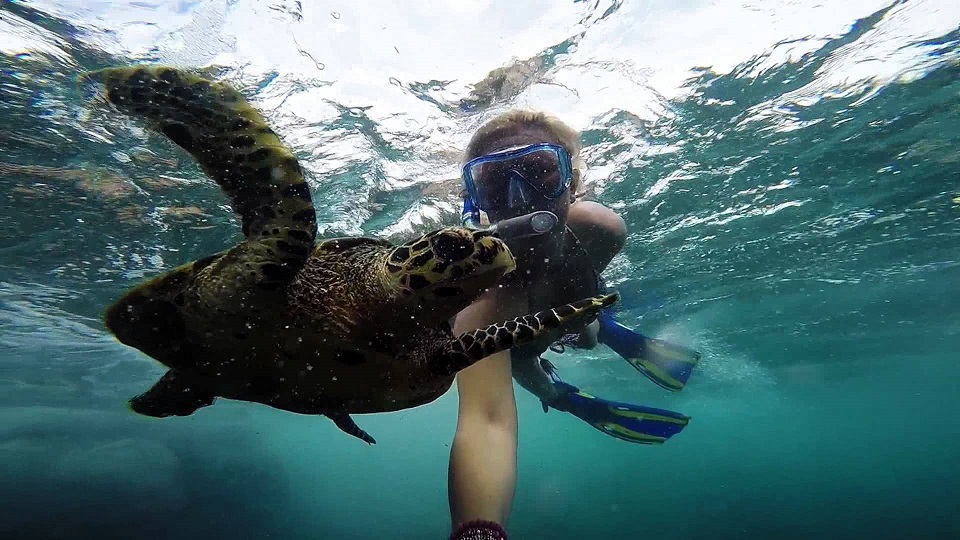 Don't spend the honeymoon days in your hotel room, I know it might be tempting, but you need to get out and indulge in a wide range of outdoor activities Seychelles offers. Most honeymooners never get to experience the marvels that await them when they indulge in outdoor activities. Don't be like them! Go scuba diving or snorkelling, swimming, windsurfing, water skiing, paragliding or fishing. Fishing in Seychelles is amazing. If you are not a water sports enthusiast, you should probably explore the island, go hiking or take a romantic walk with your spouse on the beach.
Tropical Climate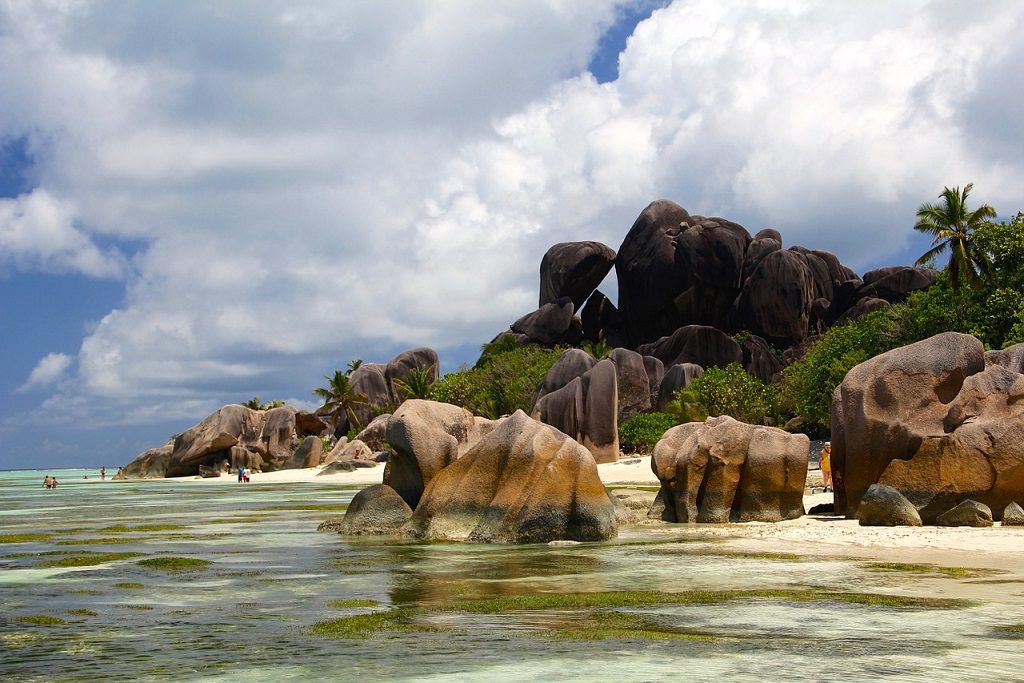 The weather in Seychelles is much better than other famous tropical island destinations. Don't be surprised. The islands of Seychelles feature a relaxing weather all through the year. It is no wonder the islands are called 'The Garden of Eden". The tropical climate is always perfect for a memorable vacation getaway.
Quiet seclusion
Seclusion! The reason why we honeymoon, the peace and tranquility, the thought of the two of you alone someplace, just staring at each other, holding hands and speaking to each other's heart. Somewhere you can lay in a hammock with your spouse, steal a few kisses or a place where you can dip your toes in the water and enjoy the serenity it offers. Seychelles offers this and more, exclusively! This is truly the best island to get away from it all!
Fine Dining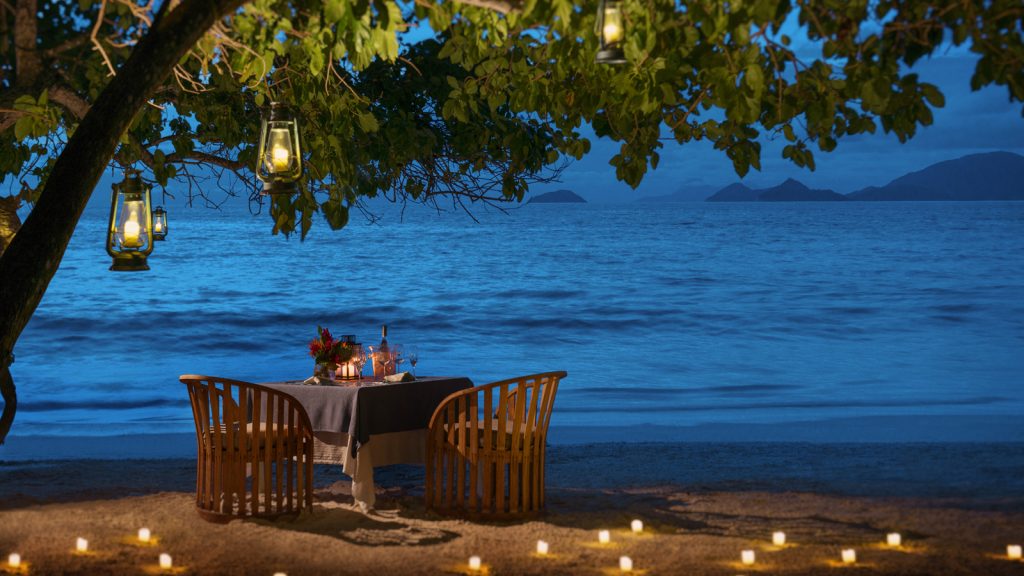 Fine dining is essential to the Seychelles experience. The islands feature a wide variety of restaurants, which are well-known for their ingenious and endlessly changing menus. Meals are emphasized with diverse cuisine selection, which includes fresh fish and seafood, locally sourced and intercontinental meals. Most hotels and resorts also have a perfect setting for you and your spouse to enjoy fairy-tale moments with a romantic dinner at a tranquil area in the restaurant, on the beach or on an infinity pool overlooking the horizon. I love this! Romantic dinner under the stars are always unforgettable, not to mention what happens after. It's always amazing!
Can't you see these are the images you have been dreaming about, for a perfect honeymoon getaway? Imagine experiencing all these first-hand with your new spouse, I bet with you, you wouldn't want to come back.
How to Get to Seychelles?
Seychellois Visa is granted to Nigerians and other Africans on arrival in Seychelles. All you need to do is to get your return flights booked, make your hotel reservation and have sufficient funds for your honeymoon vacation.
Seychelles flights leave from Lagos Airport – LOS to the main airport in Victoria, on the island of Mahé. Airlines that fly into Victoria, Seychelles include: Kenya Airways, Ethiopian Airlines, South African Airways, Rwandair express, and Asky Airlines.
Best places to Stay
Best luxury hotels and resorts to stay in Seychelles include: Constance Lemuria Seychelles, Dhevatara Beach Hotel in Praslin, Maia Luxury Resort and Spa in Anse Louis, Four Season Resort Seychelles in Mahé, Fregate Island Private Seychelles in Fregate Island, and Le Meridien Fisherman's Cove in Mahé. Price starts from $300 per night
Affordable places to stay include:  Colibri Guesthouse in Praslin, Georgina's Cottage Beach Guesthouse in Mahé, Carana Hilltop Villa in Mahé, Le Port Guest House in Praslin, and Cabanes des Ange Guest House in La Digue. Price starts from $50 per night.
Best places to eat
Most hotels actually have excellent restaurants where you can wine and dine. However, you can try out a local restaurant and have a taste of a traditional creole cooking of Seychelles. Such restaurants include: Bonbon Plume in Praslin and Chez Batista's in Mahé.
Please note that most of Seychellois cooking is prepared with chillies, and are based on seafood. It is also imperative to pay attention to food and drink hygiene during your vacation.
Things to know about Seychelles
–  English and French are widely spoken, But the major language of the islands is called Creole.
– Currency: The monetary unit is the Seychelles Rupie (SR). 1 Seychelles Rupie = 75 cents (as at date of publication of this article)
– Seychelles can be expensive. You should mind your spending if you are trying to on a budget.
– International calls from the Seychelles are very expensive.
– The major destinations in Seychelles are: Mahé, the main island of Seychelles, Victoria, the small capital city of Seychelles. Praslin, the "palm tree island", just 15-minute flight from Mahé. La Digue, well-known for its beautiful beaches, it's just a 20-minute helicopter flight from Mahé.
– Visit Seychelles Tourism website for more information about Seychelles.
Luxurious resorts, a booming nightlife, flora and fauna, a rich history, fine dining, gorgeous views, and a year-round tropical climate make Seychelles the best honeymoon destination with some romantic indulgence and pleasure.
Want to plan your honeymoon in Seychelles? Contact us for more details.
If you have enjoyed this post, kindly share with your friends on Social Media. If you have visited or spent your honeymoon in Seychelles, please, share your experience with us in the comment below.