You can't but fall in love with Nairobi, a modern cosmopolitan capital that has become one of the most popular city break destinations in Africa. The city is as "Swahilicious" as it gets in East Africa, but exudes western charm that would delight anyone. Quintessential nightlife, chic restaurants, sensational shopping opportunities make Nairobi a must-see East African city. When strolling some streets in Nairobi, you often have to remind yourself that you are in Kenya, and not somewhere in Europe.
Popularly known as "the city in the sun" and often rated as one of the best places to live in the whole of Africa, this charming metropolis offers the best of many worlds., The metropolis has richly ingrained culture and features diverse landscape and wildlife, a wide variety of tourist attractions, high-quality hotels, and upscale urban entertainment.
Overview – Short History
---
The name "Nairobi" was derived from "Enkare Nyrobi" a Maasai phrase for "cool water". The city is the capital of Kenya and the largest in the country. Wondering why the city was named from cool water? Yes, I wondered too at one point.
Well, the area was basically a desolate swamp, full of 'cool water' before the British built a supply depot for the Uganda Railway in 1899, which linked Mombasa to Uganda. The supply depot was built at this location because it's the central position between Kampala and Mombasa, and it has a network of rivers that can supply 'cool water' to the camp and its workers. Well, the location grew big enough to become the railway's headquarters in those days.
In 1905, Nairobi was buzzing and it became a commercial center, replacing Mombasa, which was then the capital city of the British East Africa. Since then, Nairobi has grown in every way; it has expanded and developed into one of the most beautiful cities in Africa. The city is rich in history and culture, and this is why it's a must-visit East African travel destination.
Things to Do in Nairobi
---
Head to the Top of KICC rooftop – the Helipad
Kenyatta International Convention Centre (KICC) is a 28-storey building located in Nairobi CBD. It's one of the tallest buildings in the city. The helipad is on the 28th floor and it is Nairobi's highest viewpoint, where you'll get a bird's eye view of the city. The building has elevators, which will take you to the 27th floor and you'll have to take the stairs to get to the 28th floor – the rooftop. Climbing the stairs is an experience on its own; you will be catching your breath by the time you get to the helipad, even if you're fit. I was puffing and huffing by the time I got to the rooftop. Ladies, at this point, you'll have to ditch your fabulous heels for flats.
The helipad is circular in shape, and features a stunning 360-degree view of Nairobi. The view from every angle is definitely Instagram-worthy if you have a phone with a good camera. There are always several tourists and locals on the landing platform and you'll find everyone taking pictures. Get fascinated by the stunning views – the cityscape, the outskirts, Uhuru Park, Nairobi National Park, Kenya Parliament Building and other skyscrapers.
Go on a Day Trip to Nairobi National Park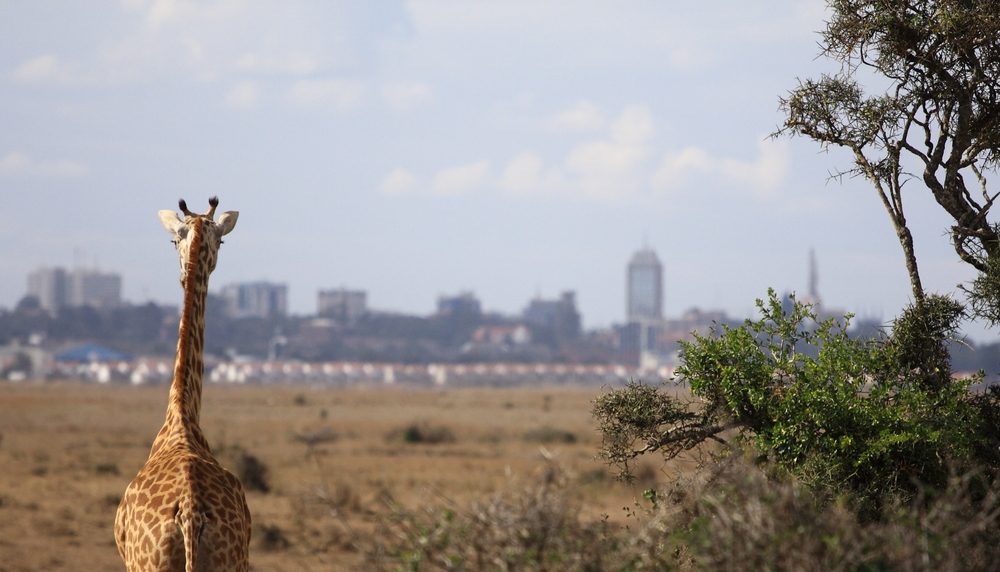 Nairobi National Park is not far from the city centre, so it makes a beautiful day trip. The park is home to a wide range of wildlife such as lions, leopard, black rhino, cheetah, buffaloes, giraffes, a range of bird species and many other animals. This is a once-in-a-lifetime experience, except you decide to always visit the park every time you visit Nairobi, and it's definitely worth it. You will not forget the stunning views of the open plains against a backdrop of the city scrapers.   The best way to get to the park is by road, it is located just 10km south of the city centre. You can get a private transport to take you to the park or book a day-safari package with a tour company. If you want to "do it" like a local, you can take a Matatu and find your way to the park's main gate.
Apart from being the only park very close to the city in the world, Nairobi National Park has the critically endangered black rhinoceros and over 400 bird species. Even though the park is home to a wide range of mammal species, you'll only find the Big Four here – lion, leopard, buffalo, and rhino.  It's important to ask for the "schedules" of some of the wild animals, you can ask the rangers at the park for updates on their movements. You don't want to get caught with a lion without the park rangers around.
You can visit the elephant orphanage – David Sheldrick Wildlife Trust, which is located within the park to see the baby elephants. During my first visit, I saw how the handlers bottle-fed the baby elephants; it was weird and amazing at the same time. You can also adopt an elephant if you like. Any time you're visiting the Nairobi National Park, ensure you go early. There are so many things to see and do in a day unless you want to spend a night or two there. There are several accommodation options available if you want to stay the night.
Visit Karura Forest
As soon as you walk into Karura Forest, the trees are there waiting to captivate you. You wouldn't even be able to resist them. Karura Forest Reserve covers an area of 1041 hectares and features a wide variety of wildlife species. The forest is located a few kilometres from the city centre and is surrounded by several suburbs. This natural forest reserve is an urban park in Nairobi filled with trees, walking and hiking trails, caves and waterfalls. It's one of the greatest indigenous treasures of Nairobi.
The forest offers a unique opportunity for you to experience a true Kenyan forest without leaving the capital city. You can't but experience the beauty of this forest as you walk through the canopy of trees to the caves. There are three main entry points – Gate A, C and F. I visited the park on a Saturday and I entered via the gate on Kiambu road, which is Gate C, also known as "Sharks Gate". You can hire a bike at the gate if you know how to ride on trails. Don't forget your helmets and always watch out for the people walking through the forest.
Karura Forest offers something for everyone – if you're looking for a great place to sit and challenge your mind, you should come here. If you want to stay fit or lose some weight, you can indulge in some leisurely walks and have some concentrated workouts here. Looking for a quiet place to read or picnic, Karura Forest is a place for you.
Explore Karen Blixen's House & Museum
When I visited Karen Blixen Museum, I had not seen the movie, "Out of Africa", so everything in the farmhouse and surroundings were new to me. Unlike my friends, it was like an intimate experience for them. They were able to recognize some of the things they had seen in the movie. The tour of the museum did not take time at all, but it was a magical experience. There was a tour guide who told us the history of Karen Blixen and how she lived her life in the house. After the museum tour, you can take a walk around the tranquil garden and enjoy the splendid view of the Ngong Hills.  The museum is located about 2 km from Langata Road.
Have a taste of the locally Brewed beer
The beer scene in Nairobi is undeniably awesome. There are several bars and pubs that have a selection of brews that will quench your beer-cravings. But, there are some amazing places that don't only sell beer, they make it. Visit Brew Bistro – a bar and dining place well-known for their craft beers and wine. It's a great place to relax and unwind after a very busy day. Brew Bistro offers a range of beers that will excite craft beer lovers. This beer spot gets crowded with happy hour crowd every night. When you get here, settle in, get cosy and sample some beers. Their seasonal beers include Oktoberfest, K50, Marzen, Big Five Berry Ale, XXX, Little 5 Honey Brown Ale and many others.
Experience Nairobi Nightlife
Nairobi is strictly known for its nightlife. Whether you're looking for urbane cocktail dens, sociable bars or bubbly dance clubs, the city features an after-dark entertainment, which is as captivating as ever. The incredibly vast and varied selection of Nairobi nightlife areas has plenty to satisfy nearly any possible demands for an evening fun. Both locals and tourists flood Westlands – which is like a mecca for a pulsating nightlife. Visit and explore bars and clubs like Skylux Lounge, Black Diamond, Club Hypnotica, Ebony Lounge, Gipsy Bar, Brew Bistro, Taboo, Privee Westlands and many others.
The K1 club in Parklands has a lot going on too, with several bars where you can get a bottle of beer to quench your thirst. If you're staying in Nairobi CBD, you should go to Tribeka, its stylish VIP section – Beka Lounge reminds me of VIP Room in Dubai. If you're not looking for the always-packed nightlife areas, you can try out something else – Natives Sports Bar & Grill on Thika Road, Explorer Tavern and Uptown Grill in Kilimani. If you're feeling lucky, you can check out the slots at Casino FaminGo for a late-night adventure. The last time I visited, I was really lucky. Clearly, Nairobi nightlife areas are in abundance, go out there and pick one for tonight, you'll surely have the best time of your life.
Explore the Village Market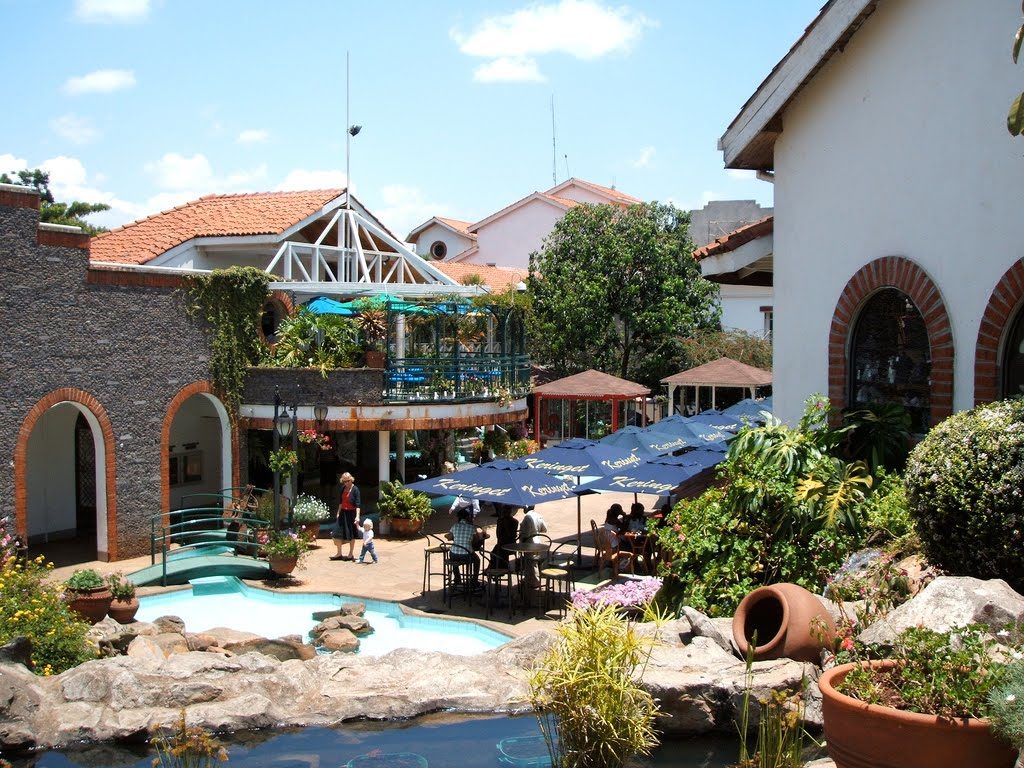 You can't but get tempted to buy everything you see at this shopping centre. The wide-ranging and evolving merchandises at the stores create an exciting shopping atmosphere that keeps locals, expats and tourists returning to check the new items every week or so. The shopping mall is filled with fabulous places to eat – be sure to try a delicious slice of pizza from Pomodoro or mouth-watering pasta from Osteria Gigiri.
From groceries to jewellery, electronics to fashion, the Village market has got the goods. Exotic foods from international cuisine await you on every corner too. With a wide range of things to buy, I simply learnt to walk away unwillingly before spending all my 'budgeted' money.
Nyama Choma & Tusker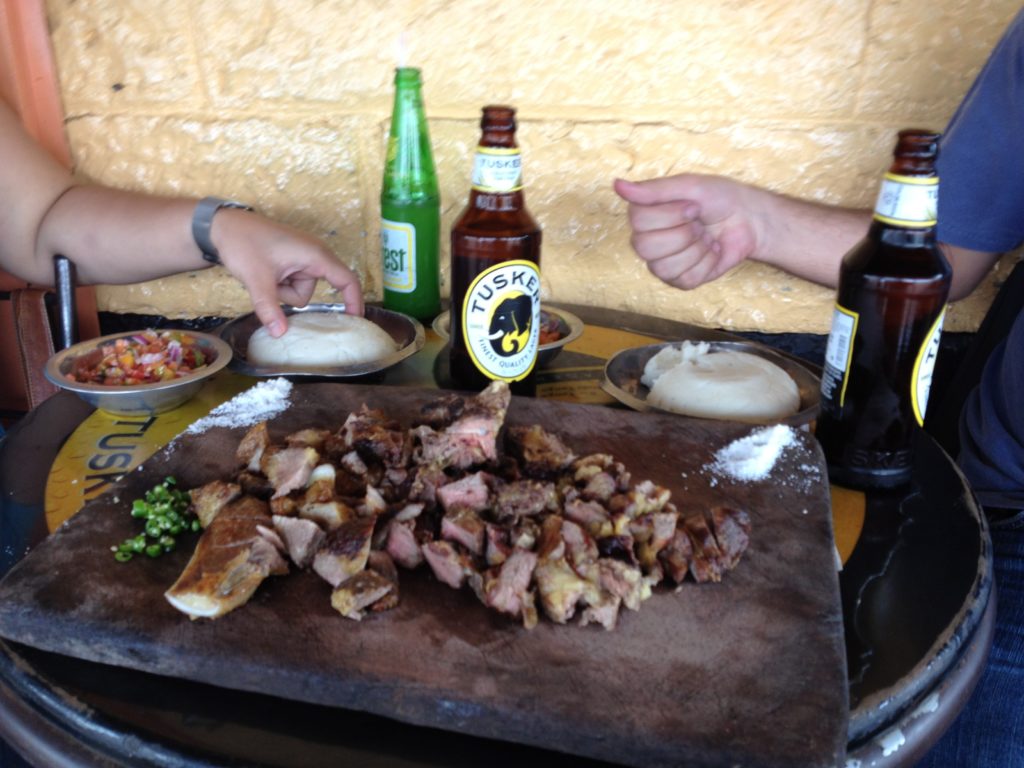 Nyama Choma is an informal signature Kenyan dish that can be elevated with a bottle of Tusker, the country's quintessential beer. The locals take their Nyama Choma very seriously; in fact, there is no end to the love affair. You can't leave Nairobi without having a taste of Nyama Choma and the mercifully ubiquitous local brew, Tusker. If you think you can skip this experience and go back home to make your own version, you'll definitely miss that unique gastronomic juicy taste that the local ones have. Don't ask me how? I have tried to choma Nyama at home and it didn't work out. No, I don't have that unique meat grilling skills.
A delicious slice of Nyama Choma will make you come back to Nairobi again and again… Okay, that's an exaggeration. But, it's really an experience you should not miss. There are several places in Nairobi where you can enjoy Nyama Choma and Tusker, especially on a Sunday afternoon. Visit the Carnivore for a taste of African game meat roasted over charcoal. You can also visit KMP Nyama Choma, Herisquare, Skewers Grill, Legends Restaurant, Chomazone, Upperhill Springs Restaurant and Jambo Grill for a taste of Nyama Choma. For locals, you get this delicious staple food with a bottle of Tusker for your next date night in.
If you're one of the most travelled visitors, you'll not be disappointed with Nairobi. Apart from its wide range of dining options and places to stay, the city is home to innumerable interesting attractions that are not far from the city centre. There is no better time to plan your Nairobi trip than now.
PS: Nairobi is the Safari Capital of the World. You don't want to miss an opportunity to explore the metropolis!