Renowned for its palatial palaces and magnificent forts, unrivalled architecture, historical monuments and superb shopping, Jaipur, the capital of the Rajasthan state of India caters to every need and taste. Well-known as the "Pink City", the city is filled with most of the buildings and monuments painted in pink colour, which gives it an appealing and healthy ambiance.
The city is steeped in history and culture, and it reflects the culture and traditions of Rajasthan. Jaipur is one of the most popular destinations in India and it is a stately entryway to the celebrated and rich history of the nation. Royalty thrives in the city, every street features ornately adorned elephants roaming around; and people move in convoy through a maze of palaces, temples, and forts.
In one word: Jaipur is a magical city! In the evening, you'll have your head in the clouds as the pink buildings display a romantic hue. You'll be amazed at the city's splendour and beauty. Let's take a look at some of the amazing things to do in Jaipur;
Visit the Epic Museum of Jaipur: Albert Hall Museum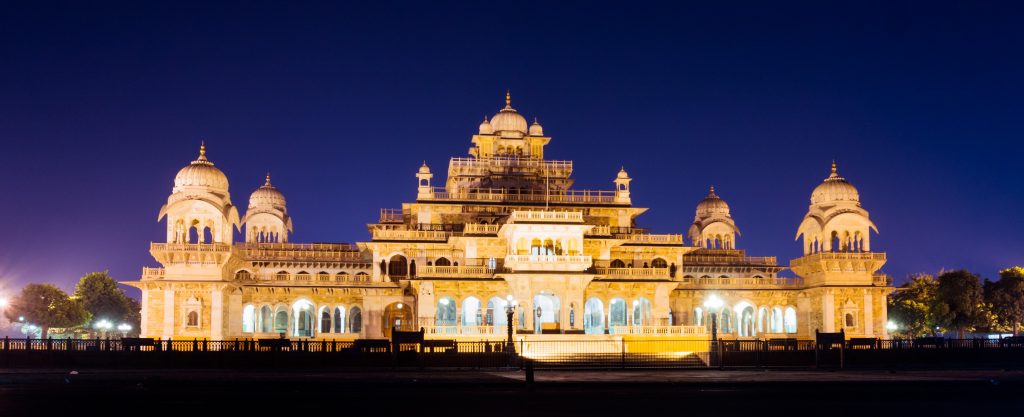 Similarly known as the "Government Central Museum, Albert Hall Museum is the oldest museum in the Rajasthan state of India and it embraces the core of the Maharajas of Jaipur. If you are a history buff, visiting this museum will give you an opportunity to get an insight into the life of the former royal family of Jaipur. The museum showcases the expressions and artefacts of the ancient days, which is a rare opportunity for history lovers. Apart from its collection of paintings and artworks, traditional clothing of the royal kings and brass-made jewellery, the museum features courtyards, towers, and archways that represent the opulent architectural heritage of India.
Enjoy the Elephant Safari at Amer Fort
Just imagine yourself on a beautifully adorned elephant decorated with painted patterns, taking an adventurous tour of the picturesque Amer Fort. It'll be an unforgettable experience for you. Built in the 16th century, Amer Fort is one of the best tourist attractions in Jaipur. The magnificent fort consists of a sprawling complex built with sandstone and marble. It's fascinating, stupendous and enchanting! The fort is located about 11km from the city of Jaipur and it is built on a hill.
The best way to explore this fort is to take an elephant ride up the hill to the entrance of the fort. When you approach an elephant, he bows his head and allows you to climb comfortably on its cushioned back. With an undulating motion, it takes you on a ride to the fort and you'll get a chance to enjoy the stunning views of the surrounding hills, valleys, and Lake. The beauty of this location is beyond anyone's imagination. It will take you about 25 minutes to get to the fort, depending on the traffic. Sometimes, there are up to 900 visitors per day and there are about 80 elephants available for the rides. Taking an elephant ride to Amer Fort is an amazing experience that you must not miss during your vacation in Jaipur.
Visit the Jeweller Market – Johari Bazaar
Located in the old part of the city, Johari Bazaar is an ideal destination for every jewellery lover. The market is located in the heart of the city and it is one of the most popular attractions of Jaipur. There are a wide number of stores that sell precious gemstones including topaz, diamonds, and emeralds. In fact, Johari Bazaar showcases a collection of alluring stones in large scale. When shopping for Jewellery, you should keep your eyes open for trustworthy sellers so that you don't get conned with fake jewellery. Apart from jewellery, you'll find beautiful female dresses including saris in leheriya and bandhej styles, bridal lehangas and others. Don't visit Jaipur without getting a traditional Rajasthani jewellery for your friends and family.
Go Gold-Shopping at the Gem Palace
This is one of the oldest jeweller in the city of Jaipur and it features beautiful Rajasthani gems. The Gem Palace is situated in an old haveli, built in 1852 with Mughal-style minarets and long narrow columns. The shop features a collection gemstone jewellery and artefacts such as precious stones, bowls and plates, Buddha and Ganesha figures, which come in silver, jade, crystal, and onyx. Jaipur is a shopper's delight, you will enjoy shopping its wide range of stores and shops.
Enjoy the breathtaking view of the City from Nahargarh Fort
Nahargarh Fort is one of the most popular tourist attractions in Jaipur. The fort is renowned for its prolonged wall that joins it to the Jaigarh Fort. Nahargarh Fort, along with Amber Fort and Jaigarh Fort formed a strong defense territory for the city in the ancient days. Nahargarh Fort is situated on the edge of the Avaralli Hills, one of the world's oldest mountain ranges. From this Fort, you can enjoy the breathtaking view of the pink city of Jaipur.
Have a taste of Laal Maas and Daal batti Churma
Don't leave Jaipur without having a taste of the delicious traditional Rajasthani delicacies – Laal Maas and Daal batti Churma. This tasty dish is the type of meal that creates lasting impressions and builds unforgettable memories. You'll feel good about consuming the food. The meal comprises of chipped round bread baked over kandas or firewood, also known as baatis, served dipped in ghee, which is accompanied with Panch Kuti Dal or panchmel and churma. Don't miss out on eating Laal Maas and Daal batti Churma in Jaipur!
Take a trip to the Step Wells of Chand Baori in Abhaneri
Photo Source: Amusingplanet.com
Situated in a small village of Abhaneri, one of the stunning attractions of Rajasthan. Explore the elaborate and state-of-the-art architecture of the Chand Baori step well, which is one of the largest and deepest step wells in India. There is a temple adjoining the step wells – Harshat Mata Temple, which features amazing ancient artefacts that you can explore.
Hot Air Balloon Ride: Get a Bird's Eye View of Jaipur
If you are an adventure lover, a hot air balloon ride is one of the most adventurous things you can do in the Pink City. Indulge in a hot air balloon safari, which is conducted by several tour operators in the city. You'll get an opportunity to see the wide range of stunning attractions the city offers including Jantar Mantar, City Palace, and Jal Mahal. Hot air balloon ride is an exciting activity to experience with your friends. It's an unforgettable experience!
Quad Biking: An Action-packed Experience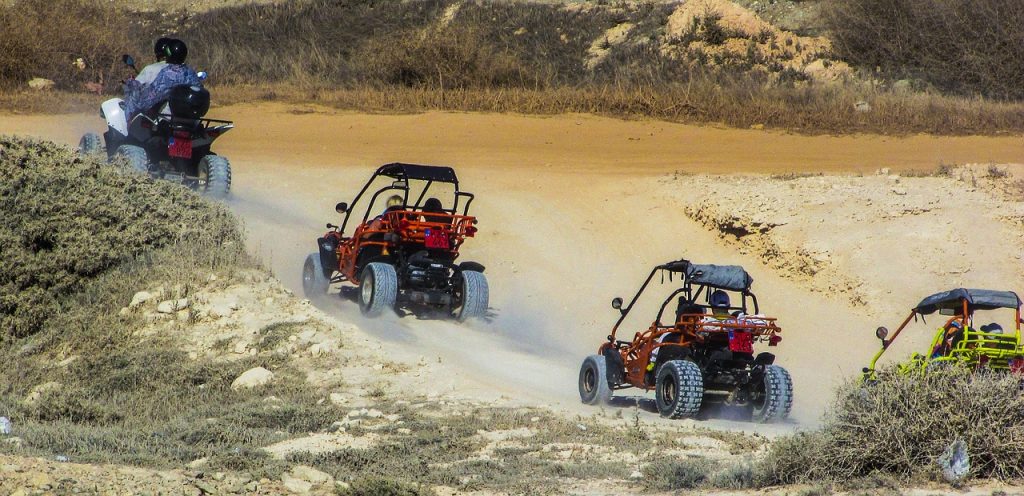 Ever rode on an All-terrain vehicle? If you have not, there is an opportunity to experience Quad Biking with ATV ride in Jaipur. These powerful ATV rides can go zigzagging through rough terrains and the forest, giving you a thrilling experience. If you want to test out your rough-riding skills, you should ride on these powerful machines, they are completely automatic. Before you start riding, you will be provided with all safety instructions and safety gear. Enjoy riding through the jungle trails, swanky landscapes, and dunes in Jaipur.
Catch a Bollywood movie at Rajmandir Cinemas – Royal Style
Raimandir Cinemas was designed by the renowned Indian Architect, W.W. Namjoshi. The Cinemas is a popular attraction among the Indians and it has hosted Indian high-class shows and film premieres. If you are a Bollywood fan, you will love it here. The Cinemas is truly a momentous experience. You can catch a favourite or newly-released Bollywood movie here and have an unforgettable experience.