Tasmania is Australia 's only island state. It has the smallest land area of any state and the smallest population, with roughly 500,000 inhabitants. It is separated from the Australian mainland by a body of water called the Bass Strait that has isolated it for thousands of years.
Geography
Tasmania is the smallest of Australia's six states, with an area of 68,401km² (26,410 square miles). It is comparable in size to Ireland or the US state of West Virginia. Tasmania is separated from mainland Australia by the Bass Strait, from New Zealand by the Tasman Sea, and otherwise surrounded by the Southern Ocean. It is located right in the pathway of the notorious "Roaring Forties" winds that encircle the globe.
Most of Tasmania's population is concentrated around the south east and north coasts. The Midlands (the area between Hobart and Launcestion) is primarily used for agriculture. The Huon Valley and the area between Launceston and Burnie is used for both agriculture and horticulture. The Central Highlands, the West Coast and the South West are all mountainous forested areas, a majority of which are protected inside national parks.
Tasmania is the most mountainous state of Australia, its tallest mountain is Mount Ossa at 1,617m (5,305 ft). Much of Tasmania is still densely forested, with the Southwest National Park and neighbouring areas holding some of the last temperate rain forests in the Southern Hemisphere.
Climate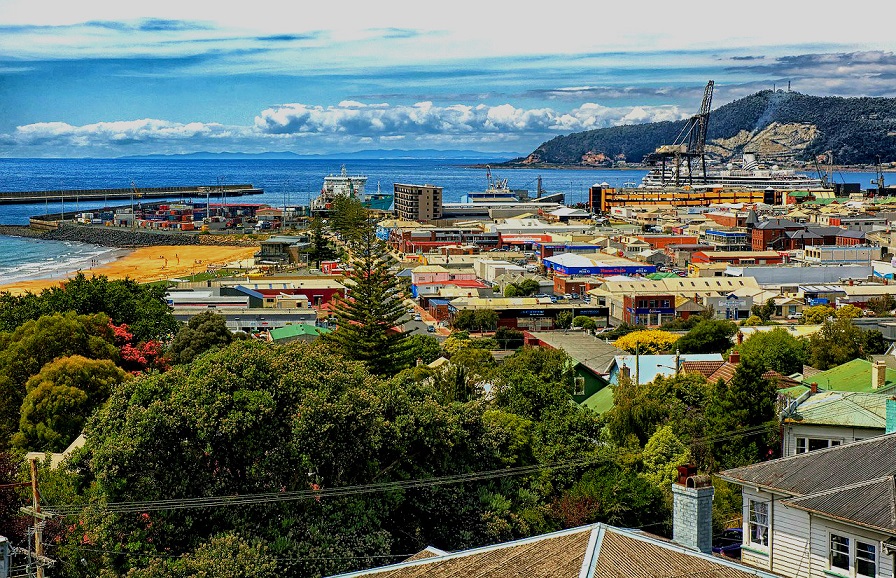 Tasmania has a cool temperate climate with four distinct seasons.
– Summer December – February. Average maximum temperature is 21°C, average low 12°C.
– Autumn March – May. Very changeable weather.
– Winter June – August. Average maximum temperature is 12°C, average low 5°C. Most high lying areas receiving considerable snowfall.
– Spring September – November. Snowfall is common through to October.
The West Coast and the South West recieve a significantly higher amount of rainfall than anywhere else in the state. The number of rainy days per year in Tasmania is much greater than anywhere else in Australian. The saying "four seasons in a day" is very true here.
Daylight
– Summer: approximately 15 hours of daylight. (05:30-20:50)
– Winter: approximately 9 hours of daylight. (07:40-16:40)
History
The first reported sighting of Tasmania by a European was on 24 November 1642 by the Dutch explorer Abel Tasman. Captain James Cook landed at Adventure Bay in 1777. Matthew Flinders and George Bass first proved Tasmania to be an island in 1798–99.
The first European settling of Tasmania was by the British at Risdon Cove on the eastern bank of the Derwent estuary in 1804. Penal settlements were established at Sullivans Cove (Hobart), Maria Island, Sarah Island, and Port Arthur. The colony changed its name from "Van Diemen's Land" to "Tasmania" in 1856. The Colony of Tasmania existed from 1856 until 1901, when it federated together with the five other Australian colonies to form the Commonwealth of Australia.
Economy
Tasmania's main industries are mining (including copper, zinc, tin, and iron), forestry, agriculture, fresh produce (fruit, vegetables, dairy, seafood, beer and wine), and tourism…
Read full article: Tasmania travel via travels.remmont.com