For decades, air travel has been less than fun for most travellers, but nowadays, it is one of the most amazing travel experiences you can ever have. Imagine ordering champagne at 36,000 ft. while you sit comfortable in an onboard lounge? You can now skip the drink at the airport lounge and order one up in the air. Well, it used to be like that in those days, but airlines started making use of the space by stuffing in more seats to accommodate more passengers.
However, some airlines have broken barriers by upgrading their services to give travellers memorable experiences. They have added more amenities such as bars and lounges for premium passengers. So now you no longer need to wait till your flight arrives at your destination before you can get a drink to chill your nerves. So, I thought I should share with you some airlines with the best amenities like bars. Here are some airlines with the best onboard bars. Flying with these airlines would always be memorable.
Qatar Airways A380
Ever been on Qatar Airways A380? The airline has one of the most sophisticated onboard bars in the aviation industry. Qatar Airways A380 has a picture-perfect bar for first and business class passengers. The bar is located just in front of the small upper deck economic cabin, behind the business class cabin, so there are no distractions. It is very spacious; it has lavish lounge sofas and impressive bar menu with snacks – sushi pieces with crème fraiche and chocolate mousse pods and sushi pieces with smoked salmon crème frâiche. They even serve Krug, one of the famous champagne and it doesn't matter if you are a business or first class passenger, you can drink order a glass for yourself. So, when next you are booking a Qatar Airways flights, be sure to book business or first class, you will definitely get your money's worth!
Emirates A380
Have you seen the popular Emirates commercial featuring Jennifer Aniston? Well, it's real! Emirates has an impressive bar and lounge area where you get to enjoy cocktails mixed by a bartender. First class passengers are entertained with a chilled bottle of Dom Perignon on ice during the flight. The bar is located at the back of the upper deck for first and business class passengers. Although, Emirates lounge is not as spacious as Qatar Airways A380 and there is always a distraction as flight attendants are always walking across the bar between the cabin and the galley. However, the lounge is said to be one of the liveliest onboard bars with sassy flight attendants, you will definitely have a nice time and a memorable experience.
Korean Air A380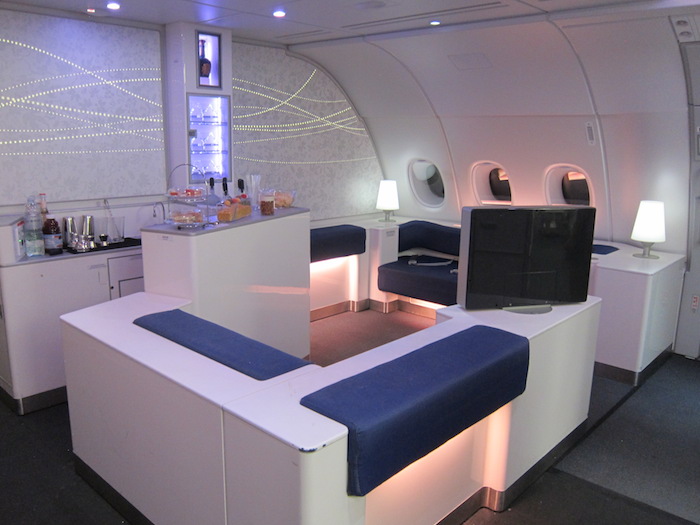 We don't see Korean Air regularly on African route, but it is one of the most sophisticated airlines in the industry. The airline has a business class lounge, which is located at the back of the upper deck. The bar is called the Celestial Bar and it is spacious and gorgeous. Korean Air partnered with Absolute Vodka to open The Celestial Bar and they created some signature cocktails that can be ordered at the bar such as Absolute Pear Deluxe and Korean Ginger. Unfortunately, only the signature drinks are served in the bar.
Etihad Airways A380
Well, Etihad Airways A380 doesn't really have an onboard bar but they have got an onboard lounge, known as "The Lobby". You can order a drink and sip it comfortably in The Lobby, which is located between the first and business class cabins. The Lobby features a rounded seating area with six sofas and there is no bartender available. However, the cabin crew is attentive to serve you what you want in The Lobby, even if it is a glass of champagne.
Virgin Atlantic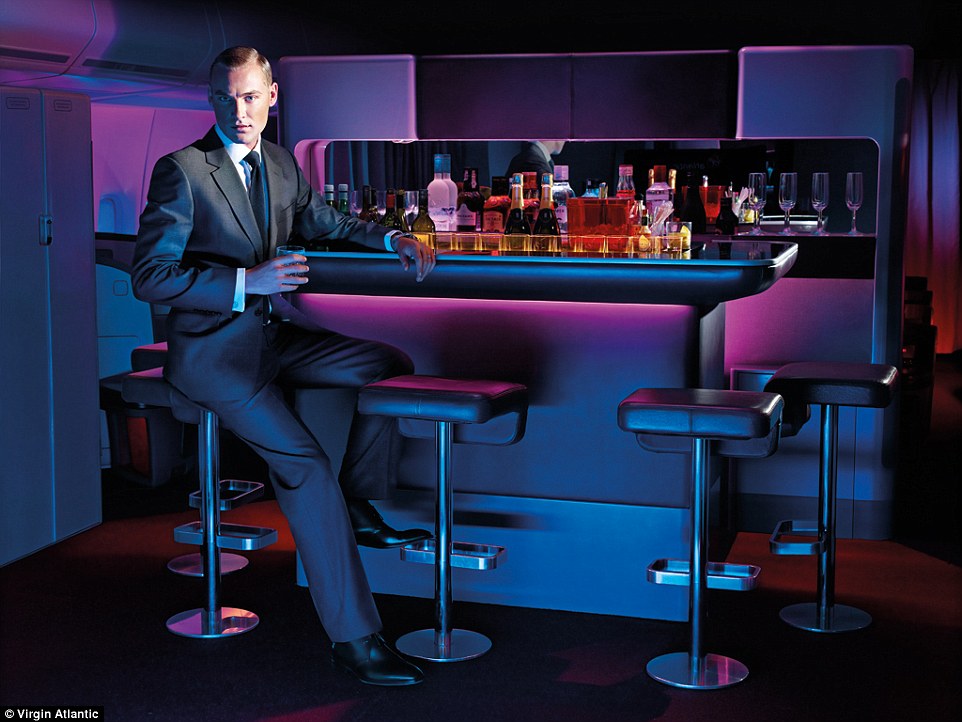 Virgin Atlantic is undeniably one of the most luxurious airlines in the aviation industry. The airline has stylish onboard bars for business class passengers on all their airplanes. The bars are impressive and fully stocked with a variety of wines. There is always a distraction because the bar is not really far from the cabin. However, you can have fun, relax as you sip a glass of wine.
My advice: If you are flying long haul, you should definitely book a business class so that you can stretch your legs, sit in those comfortable lavish sofas, and sip your cocktails while you read a good book or mingle with other passengers. These airlines with the best onboard bars are commendable for making a difference in the aviation world.
Ever flown first or business class on any of these airlines? Share your experience with us in the comment below: